In late April, Google announced that it would be extending its new identity verification policies to all advertisers, and the emails to those advertisers have started to roll in.
Want your ads to keep running on Google? Well, you had better keep an eye out for the latest email coming from Google Ads as part of the identity verification process originally designated for political advertisers only back in 2018.
On April 23rd via the Google Ads blog, John Canfield, Director of Product Management, Ads Integrity, let US-based advertisers know that the new policy was rolling out for summer 2020.
"As part of this initiative, advertisers will be required to complete a verification program in order to buy ads on our network. Advertisers will need to submit personal identification, business incorporation documents or other information that proves who they are and the country in which they operate. Beginning this summer, users will start to see disclosures that list this information about the advertiser behind the ads they see."
To be rolled out in phases, and eventually to the entire globe of Google Ads advertisers, it would seem that the earliest of phases has begun and we are beginning to see the emails for select accounts.
The good thing is that there is plenty of time (30 days) to complete what could be a total 10-day process broken into two separate steps.
Your ads will continue to serve, but if you don't take of this now then you run the risk of having your entire advertising presence on Google disappear.
Does it Affect Retailers?
While Google's original announcement only shows an example of Search ads (Text), when you dive into the "fine print" the program is definitely for merchants as well (ie anyone promoting products/goods):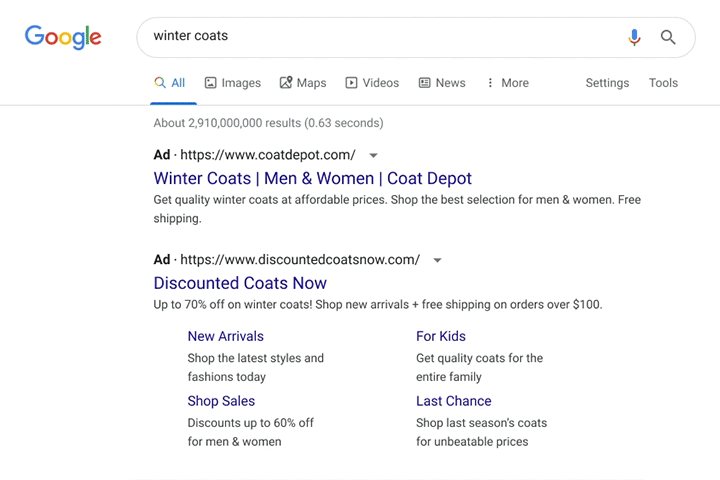 What this experience may look like on Shopping ads is not yet known, however, we are working with our Google team to get more info to share.
Yet, many retailers also run Search ads in tandem with Shopping and even Display or Remarketing campaigns - and it that shouldn't matter since not completing the process will take down your entire advertising account.
For more info regarding the policy itself, please see this Google support page.